Please contact us for further information about any of our products.
---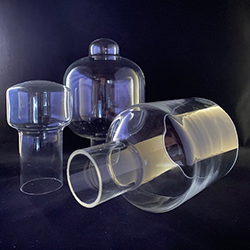 Blown Glass Products
Products made from blown glass have numerous applications within medical, engineering and scientific fields. Examples include thin walled bulbs, cylinders, and glass domes.
We can offer various glass types, such as borosilicate or soda glass, or customers own formulas to suit their different technical requirements. A typical melt would be 300 kg of glass per furnace.
Examples of products we produce are blown bulbs for photomultipliers, which are used in detecting radiation.
---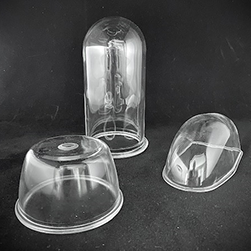 Pressed Glass Products
We have the capability to melt glass on site which gives us the opportunity to make products by pressing them. We produce glass made this way for the aircraft, car, and medical industries.
Tooling to support this process is normally to customer specifications or requirements, however we can provide guidance if required. Tooling materials are usually stainless steel or cast iron, and we are able to assist with tooling manufacture.
Examples of products we produce include wing tip covers for aircraft and glass for making X-ray imaging parts.
---
Glass Tubing
Glass tubing can be made either by using the Danner tube making process or traditional handmade techniques. As we make tubing from glass melted in our own furnaces, we are able to make tubing from a range of Borosilicate and Soda glass formulas. Some products are frequently used in the aircraft industry.
---
Crushed Glass / Glass Powder
We can supply glass powder using Borosilicate, Soda, High Barium and Kodial glass that we melt on site. This glass is then crushed and sieved. The most popular sizes are 0.25 mm - 0.50 mm and 0.15 mm - 0.25 mm. Other sizes are available on request, up to a maximum size of 2.00 mm. Quotes for trial samples are available.
Glass powder is used for quite a few applications, including non-slip decking on boats.